Description
Mobile Phone & Tracking Device Gps Tracker two devices in one
Remote monitoring of elderly people, an essential security system for young and old
Gps Tracker satellite tracking device with sos and cell phone.
Mobile phone tracking remotely in real time you can constantly see where it is located that stopped for how long as well as all the way of the day,
You can always keep track of it through the Internet from your mobile phone to your computer
You can also find it through messages, without the sim card having internet, when you want to find out where you are, you will send the position # message and the device will send you an SMS with the link of the address you find.
It has the capability to locate it via Gps or via LBS, A-GPS, that is, with a stigma coming from the cellular antennas. This way you will always know where you will find even if you find yourself at a point where you will not have a Gps pinpoint, such as inside the house in a tunnel shop, pipelines, basements etc
The deal has a large battery and can operate with the GPS open 24 hours a week.
By pressing the red button, the elderly will be able to notify you when they need your help.
You will be able to locate them directly from your phone and you will always know where they are.
Two devices in one works like a normal mobile phone but it's also a Gps Tracker.
It has a hot key to be able to request emergency assistance.
Once the SOS key is pressed, the device will automatically call three emergency numbers and send you an SMS with the Google map link with the address you find.
It has built-in high-tech GPS Tracker that offers real-time tracking.
You can learn to find out by sending a command from your mobile phone, the device will answer you with a message that will show you where it is.
A suitable device for parents who have small children and a necessary device for people suffering from Alzheimer's disease, amnesia and generally older people living independently or lonely. From now on they will be easily identified by their relatives and will be able to help them effectively in case of need.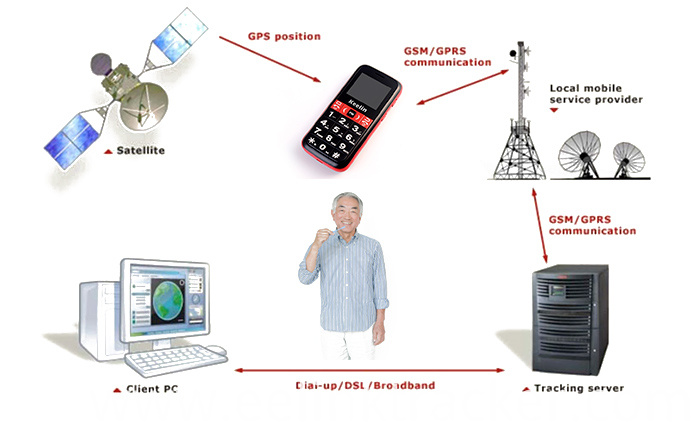 You will always know where you are your favorite person who went, who stopped, as well as the route he made all day.
Offer free program for Internet monitoring:

Offer a month. Buying the K20 this month, we give you free access to the web program of the factory to keep track of it all the way around the Internet 24 hours a day absolutely free of charge from your computer and your mobile phone.
You will see in real time you find it as well as the route you have made throughout the day.
The device will instantly notify you through the web application if it moves outside the geographical limits you have set to drive or climb a car or machine.
You can track your mobile phone from your computer or through the KEELIN mobile application from mobile phones running Android and IOS
* In order for the device to send its position to the application, it must have an Internet connection
* The device does not have a menu with English
Connect to the app
Sign in to the web application http://hk.sky200.com/ to open an account and register the phone with its IMEI and S / N.
Through the app you will be able to see: 1. Where to find the real-time phone
2.The history of the route that was backdated up to 90 days in advance
3. The walking distance
4.The battery charge rate of the phone
5. SOS notification if pressed from sos by phone
6.To set Geo fence and the application will notify you if it comes out of a specific geographic area that you have set to move.
7. It will also notify you if it exceeds the speed you set to move
DESCRIPTION
Basic Info
Model No.: K20
Type: GPS Tracker
Use: Hand Held
Operating Principle: Square Type
Port Number: Multichannel
Model: Integration Type
Carrier Frequency: Dual-Frequency
Certification: ISO2000, ISO14001, ISO/TS16949
GSM Frequency Band: 850/900/1800/1900MHz
Satellite Frequency Band: 1575MHz
Sensitivity: -165dBm
Satellite Accuracy: 5-15m (Depend GPS Signal)
Voltage: 3.7 V DC
Battery Capacity: 2000mAh
WiFi Accuracy: 5-50m (Depend Hot Spots Density)
Dimension: 115.5(L)X54.2(W)X16.4(H)
Weight: 110g
Hot/Warm/Cold Start Time: <3s,<15s,<60s
Additional Info
Packaging: Industrial Packaging Or Box Packaging
Brand: Keelin
Place of Origin: China
Certificate: CE/FCC/CCC
Product Description
K20 is mobile phone GPS Tracker guard the safety and security of elderly.It is powerful with phone, tracker functions.If you are find a multi-functional GPS phone, GPS tracking phone would be your best choice.SOS, Geo-fence alarm is the main feature of K20.
SOS- call for help. 3 SOS numbers needs to be set in advanced.
Geo-fence alarm- keep the kids/elderly in safe zone.
K20 Cellphone Gps Tracker FUNCTION:
■ Supports quad bands,i.e. 850/900/1800/1900MHz, universal in the world.
■ GPS / LBS Double locating mode , support A-GPS
■ Keelin Tracking Service Platform, Keelin APP Client, SMS query
■ Eler phone, big font, big botton, big speaker,
■ One key to family , NiceDial
■ One Key SOS, Healthy management
■ High-capacity lithium battery, long standby
■ A key flashlight, FM radio, pedometer
■ GPS time, real-time latitude and longitude coordinates, altitude
■ Locally record GPS track to generate PLT file
■ Support EELINK protocol, can be integrated to any platform of the customer's
■ OTA upgrade firmware.
K20 Cellphone GPS Tracker each button instructions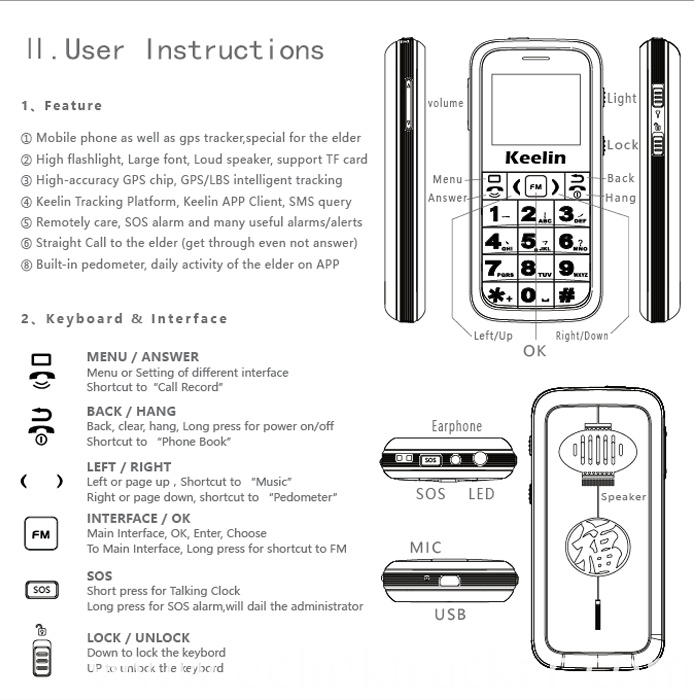 GPS Tracking Phone for elderly Parameter
| | |
| --- | --- |
| Working Voltage | 3.7 VDC |
| Working Current | < 40 mA |
| Standby Current | < 5 mA |
| GSM Frequency Band | 850/900/1800/1900MHz |
| Satellite Frequency Band | 1575MHz |
| Sensitivity | -165dBm |
| Satellite Searching Time | <60s |
| Satellite Accuracy | 5-15m (Depend GPS Signal) |
| WiFi Accuracy | 5-50m (Depend Hot Spots Density) |
| LBS Accuracy | About 200 m (Depend Density of Base Stations) |
| Hot/Warm/Cold Start | <3s,<15s,<60s |
| Battery Capacity | 2000mAh |
| Dimensions (mm) | 115.5(L)X54.2(W)X16.4(H) |
| Working Temperature | -20℃~ +65℃ |
| Working Humidity | 20%~80%RH |
| Weight | 110g |
PLATFORM/APP:
■ Real-Time Tracking ( WiFi / LBS )
■ History Route Play Back
■ Listening
■ Pedometer
■ Low Battery Alarm
■ Speed Alarm
■ SOS Alarm
■ Geo-fence Alarm
Product picture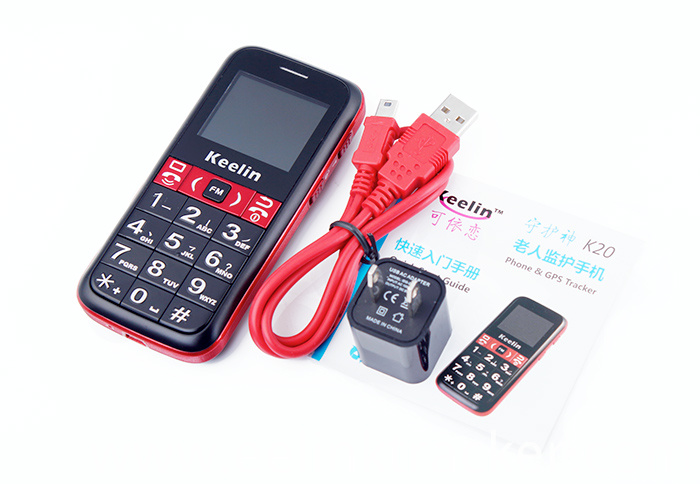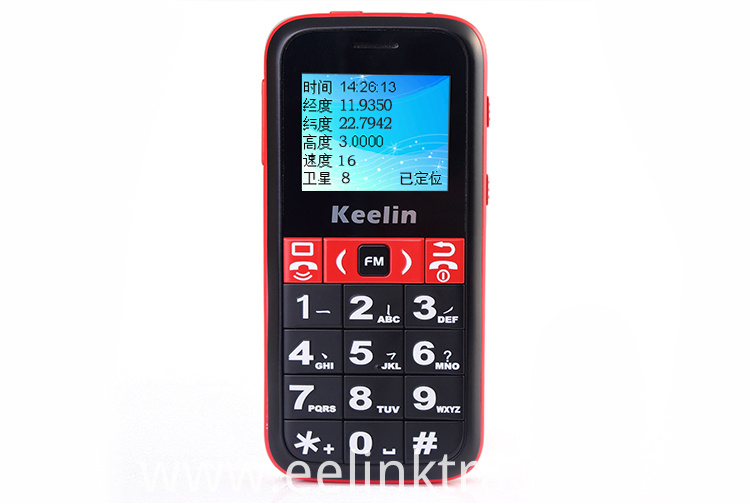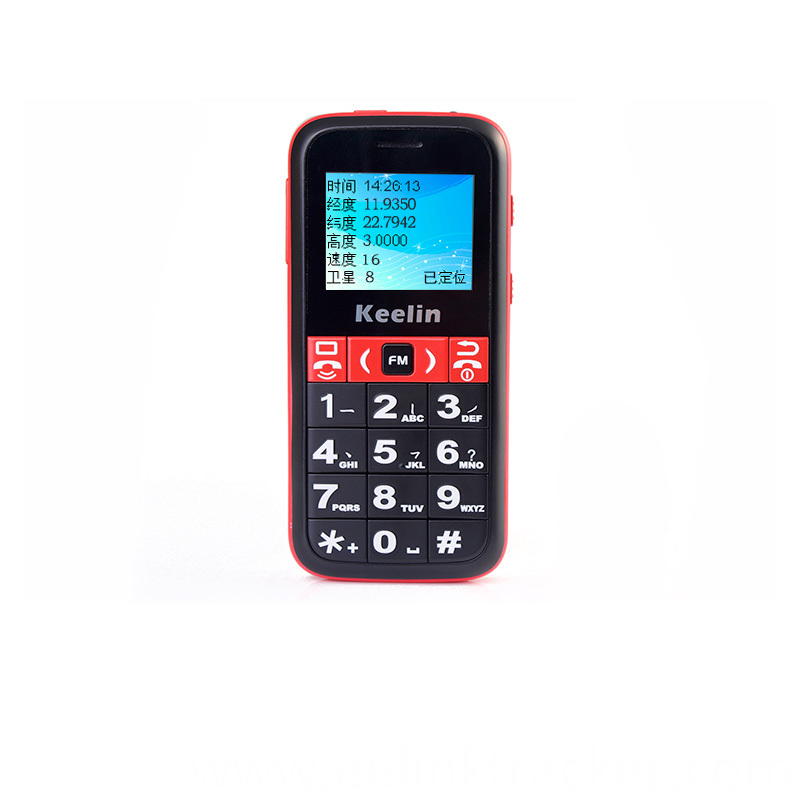 Tracking platform with website & mobile APP designed by EELINK
APP IOS Version can manage the GPS tracking watch, such as the real time location, history route for 90 days, SOS alarm,
low battery alarm, Geo-fence alarm, Pedometer & exercise.