access for a limited time!
You asked for it, we made it! Now it is easier than ever to provide access to your sub-accounts for a limited time. Through our pioneer GPS Tracking Application, it is possible to allow/share access to a sub-account for a limited time. This is a great feature for companies that want to share the location of their vehicles, with their partners or clients. In order to create limited access to our software, follow the steps below:
Open the "My account" tab, in order to access the settings of your account. If you don't know how to open the "My Account" tab, check here. Navigate to the "Sub Accounts" tab and press the "+" icon located at the bottom left corner.
A window like the below will appear. From here you can create a sub-account, set the expiration date of this account, select the vehicles that you want this account to have access and various more details.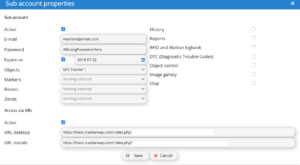 For any kind of inquiries or assistance you need, feel free to contact us!